Fantasy author, P.H. Solomon joins me on the blog today to share some info about his novel, The Bow of Destiny, and his background in the self-publishing world.
Could you give some background on who you are and why you like to write?
I work as an IT professional and live in Birmingham, AL with my wife (a teacher) and daughter (now a high school senior). We have 2 German Shepherds who seem to own the house rather than us. I suppose I've been enamored with story since I was a child and my mom read to me. Later, I happened to take up with Tolkien and other fantasy writers from about 5th grade on so writing was the next step after I graduated high school many years ago.
When did you decide you wanted to become a writer?
Just out of high school I decided to try my hand at writing. I knew very little about creating fiction at the time. In the last five years or so I've committed to the writing craft to re-develop The Bow of Destiny.
Describe your writing process when you start a new project.
First I have a kernel topic or idea around which I may develop a main character, then a basic plot with more characters. Then I'm into the setting which is big for an alternate world fantasy. Next, I start with a creative outline which is normally open-ended and fluid. Now that I use Scrivener, planning is much easier and allows me to make changes to the basic structure without much trouble. Once I'm done with the outline, I want to further develop characters, setting, etc and then grasp an idea of how to start. Once I actually begin writing, I want to push forward at the fastest pace possible without pausing to edit. Once I'm done I like to set it aside and then come back to structurally edit, have an editor look over the structure and then move into the deeper editing until it's completed after a last once-over from the editor.
Who are you favorite authors/writers? Have any of them had a big influence on your writing?
Tolkien is an obvious influence though a lot of newer writers want to veer from his track. But he was the first one to really build a detailed world. I like Robert Jordan for his intricate world-building in the Wheel of Time series. McKillip, Le Guin, McAffrey, Lewis and many others influenced me as well with their engrossing story-telling skills, writing voice and imagination.
What is your upcoming novel, The Bow of Destiny, about and why did you choose to write it?
The Bow of Destiny is more of a classic epic fantasy with a number of common elements that I've worked to twist to uncommon uses in writing the book. It started with a kernel of an idea many years ago regarding a bow prophesied to destroy a rather troublesome dragon named Magdronu. The story has morphed into the current version that builds on these elements in some ways that I hope readers will find surprising and entertaining. The main character, Athson, is a rather troubled young man with a tragic past who is drawn into a quest to find the Bow of Hart against his will. Athson is a complex character with secrets and a grievous past that color his actions during the quest.
Is the fantasy genre your primary focus for novels or are you planning to branch out into other genres?
For the moment I'm focusing on fantasy with plans for several different series. I might branch into science fiction or nonfiction at some point but this is the best place for me to start now.
You're pretty active on social media, how has that helped your author platform?
I probably waited too long to engage on social media and creating a website. These are tools that a current author must use to draw interest and create a writing brand. It's merely a launching pad though as an author's writing must carry the day to gain critical attention to further a writing brand.
Do you have any tips for other authors on how to market their books?
Start early on building your author platform and work steadily at it over a period of time. Work to find resources over which you can get out the word about your writing. Network over social media – especially Goodreads – with patience so you can build interest and support. Choose to emphasize the social media that best suits your genre but still build your following elsewhere.
Would you ever collaborate with another author on a writing project? Why or why not?
I'm certainly open to such projects. I've recently discussed work on shared-world projects and even published some flash fiction on one a while back. Another idea that I'm toying with is working with a graphic novelist to convert The Bow of Destiny to that format.
Besides the Bow of Hart series, do you have any other projects you're working on that you'd like to share?
My main focus is on finishing the current series. However, I have a parallel series set in the same world that is about half done as a rough draft. I might publish a follow-up series to The Bow of Hart Saga. I also have plans for a fantasy series set in a different world called Guardians of the Gate and another adventure fantasy series named The Black Glove. I also have a number of short stories I'm always working on that I submit around but which I may compile into an anthology.
What advice would you give aspiring authors who are interested in self-publishing their work?
Take your time and get it right. Work on your craft and while you're taking all that time build your platform. If you are writing in one of the speculative fiction genres put your funds into a good, relevant cover and professional editing – both are very important to your quality.
Where can readers connect with you and find your books?
See my contact links below and check the News page on my website for events.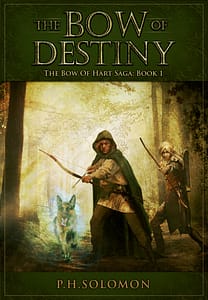 Haunted by his past. Hunted in the present. Uncertain what is real.
Athson has seen things that aren't there and suffered fits since being tragically orphaned as a child at the hands of trolls and Corgren the wizard. When a strange will mentioning a mysterious bow comes into his possession, he's not sure it's real. But the trolls that soon pursue him are all too real and dangerous. And what's worse, these raiders serve Corgren and his master, the hidden dragon, Magdronu, who are responsible for the destruction of his childhood home. Athson is drawn into a quest for the concealed Bow of Hart by the mystic Withling, Hastra, but Athson isn't always sure what's real and who his enemies are. With Corgren and Magdronu involved, Athson must face not only frequent danger but his grasp on reality and the reasons behind his tragic past.
Book Trailer
About the Author
P. H. Solomon lives in the greater Birmingham, AL area where he strongly dislikes yard work and sanding the deck rail. However, he performs these duties to maintain a nice home for his loved ones as well as the family's German Shepherds. In his spare time, P. H. rides herd as a Computer Whisperer on large computers called servers (harmonica not required). Additionally, he enjoys reading, running, most sports and fantasy football. Having a degree in Anthropology, he also has a wide array of more "serious" interests in addition to working regularly to hone his writing. The Bow of Destiny is his first novel-length title.
Contact
Twitter  Facebook  Goodreads  Website Pinterest  Google +  Wattpad  Amazon Author
Upcoming Events for P.H.
10/1/15: Guest appearance on Cindy's Notebook, hosted by author, Cynthia Harris.
10/2/15: Guest appearance on Brain to Books hosted by speculative fiction author, Angela Chrysler
10/2/15: LIVE interview 1:30-2 ET on "Tell Me a Story " via Blog Talk Radio, hosted by Annette Rochelle Aben and The Bow of Destiny will appear the following month in the review section of the digital magazine, The Magic Happens.
Current & Upcoming Titles
Book 1 of The Bow of Hart Saga: The Bow of Destiny can be found at these online retailers: Barnes & Noble, Kobo,  iBooks,  Amazon & Smashwords.
Prequel short stories to The Bow of Hart Saga:
FREE Trading Knives – Kobo, iBooks & Barnes & Noble, Smashwords and on Amazon
FREE What Is Needed – Barnes & Noble, Kobo, iBooks, Smashwords & Amazon
Additional Title:
The Black Bag – Amazon, Barnes & Noble, Kobo, Smashwords & iBooks
Upcoming Titles:
Book 2 of The Bow of Hart Saga: An Arrow against the Wind due out 4/18/2016. It can currently be found for pre-release orders at these select online retailers: Barnes & Noble, Kobo & iBooks.
Book 3 of The Bow of Hart Saga: The White Arrow is due out Fall of 2016 (links pending).
Future Works in Development
A parallel series to The Bow of Hart Saga is also in process as three novellas.
There will likely be a sequel trilogy for The Bow of Hart Saga and possibly at least a prequel book.
Guardians of the Gate epic fantasy is also a book/series in development.
The Black Glove adventure-fantasy series is also in development.